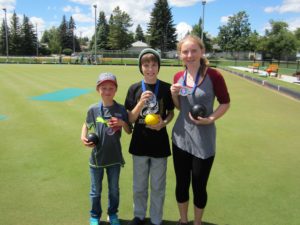 For further information on our Youth Programs contact a club in your area. Visit the Youth Lawn Bowls promo page.
Bowls Alberta promotes the sport of bowls for young bowlers and encourage their development through activities specifically geared for them. All member clubs are encouraged to set up Junior/Youth Clubs and to promote city wide activities for their youth.  Check out the Youth Development Funding Guidelines. Clubs that are working on plans for next year's programs are encouraged to still apply this year for equipment for their planned programs.  View the Grant Application and Budget Form available on the club forms page.
Each summer a provincial tournament is scheduled for all bowlers under 18 years of age. The winners of the provincial championships for each division (girl and boy), may be eligible to receive assistance to attend the Canadian Youth Championships. This year the national event will be held in Winnipeg, Manitoba from August 14 – 18. The Juniors Singles Championships will be held the same time as the U25 Singles Championships with a combined Pairs event during the afternoons.  These three events make up the BCB Youth Championships.
For further information about the Provincial Junior and U25 Championships see the event Posters. (will be available soon)
Policies and Forms
Youth Program and Support Policy
Junior Release Form 2018 (PDF Form)
Junior Championship Agreement Form